General Announcement
Reaper Training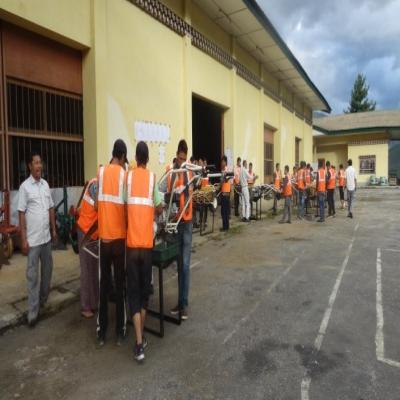 The training for seasonal machine " reaper" for harvesting paddy had started from September 19, 2016 for the period of five days at Agriculture Machinery Training Section, Paro. A total of 32 participants from the Farm Machinery Corporation limited (FMCL)...
Read more...
---
Views: [ 494 ]
---
Allocation of google apps account
The Ministry has received 861 additional google apps account in the second phase for P4/P5 level officials. The list of officials assigned google apps account are given below: http://www.moaf.gov.bt/allocation-of-google-apps-account/#more-5614
Read more...
---
Views: [ 914 ]
---
Result for post of Security Guard
Result of selection interview for the post of security guard for AMTC,AMC, Paro and RAMC, Samteling conducted on 26th May 2016. Download from link below: http://www.amc.gov.bt/index.php?r=document/download&id=40
Read more...
---
Views: [ 899 ]
---
VACANCY RE-ANOUNCEMENT
The last date for submission of application for the vacancy of security guard under ESP advertised in Kuensel issue of 6th April 2016 is hereby extended till 10 am of 26th May 2016 2016 and selection interview will be held on same day at 2:30 pm in the office of the Program Director,...
Read more...
---
Views: [ 1104 ]
---
Announcement
FARM MACHINERY CORPORATION LIMITED Farm Machinery Corporation Limited (FMCL) has been incorporated under Companies Act of the Kingdom of Bhutan 2000 on 29th March 2016 as a 100% State Owned Enterprise (SOE), with the mandate to provide efficient and cost effective farm...
Read more...
---
Views: [ 1508 ]
---