Awareness and consultative discussion on Farm Machinery Standards and implementation strategy discussed with both public and private sector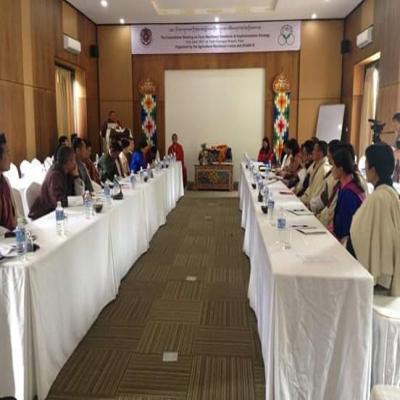 Posted on:21 Jun 2017
---
The awareness and consultative discussion on Farm Machinery Standards and implementation strategy was officially opened by Hon'ble Lyonpo for Agriculture and Forest at Paro today. The Director of Agriculture and JICA office representative were also present. The programme was jointly organized by Agriculture Machinery Centre and JICA project under AMC. The participants were from MoAF, RSTA, BSB, FMCL and private sectors who are dealing in farm machinery sales in the country.
Lyonpo stressed on the importance of standards in the country, without which we may land up becoming a dumping yard for cheap and unsafe machines. He also highlighted that its for mutual benefit and private sectors should actively participate and test their new machines.
During the discussion AMC stressed that standards shall ensure mutual benefits to both who are dealing with farm machinery sale and also to the end users " farmers" who shall be benefited with efficient and safe machines use. AMC also presented how MoAF shall support if machines are brought for testing. Most of the supports highlighted were genuinely wished by the farm machinery enterprises. It implementation framework for test and also the status of available standards and in pipelines were also presented.
At the end, representative from private sector thanked AMC and MoAF for coming up with this discussion which is geared to solve their problems and also of the farmers.