AMC OFFICIALLY RELEASED FOUR BOOKS ON FARM MECHANIZATION.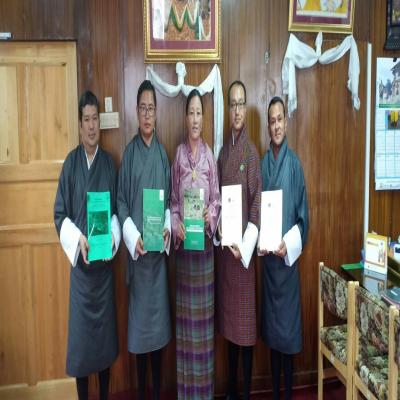 Posted on:12 Sep 2018
---
The Agriculture Machinery Centre (AMC) officially released four books on farm mechanization yesterday. The Honourable Director, DoA officially signed and released the books in presence of Program Director, AMC, chiefs and officials from AMC at the chamber of Director, DoA, Thimphu. The books were on Farm Mechanization Need Assessment Survey Report, Power Tiller Mechanic Training for National Certificate Levele-2, Power Tiller Operation Training for National Certificate Level-2 and Quality Management Manual.
The result of the Farm Mechanization Need Assessment Survey, analysis and the outcome is expected to be consistent with the actual needs, and thus strengthen the farm mechanization interventions. The shift in the approach is a step to revolutionize farm mechanization making it vibrant and ensuring relevance. The outcome of the survey was launched with objectives to identify the difficulties faced in farming, which can be addressed by farm mechanization interventions and it will form a guide and focused for the 12th five-year plan. Survey was conducted by involving over 100 farmers in each dzongkhag.
AMC in collaboration with TPSD, DTE, MoLHR developed competency based curriculum on Power Tiller Operation and Mechanic NC-2 to enhance the quality of training and to build skill capacity of beneficiaries. With this now will have uniform training system at head office and two regionals. It will also increase the competency and trust of end users. The Quality Management Manual book will further enhance the quality of overall training system and we are sure that these initiatives will lead AMTC to one of premier training institutes in country.