AMC BID FAREWELL TO TWO OUTGOING STAFF OF SFAMP-II PROJECT, JICA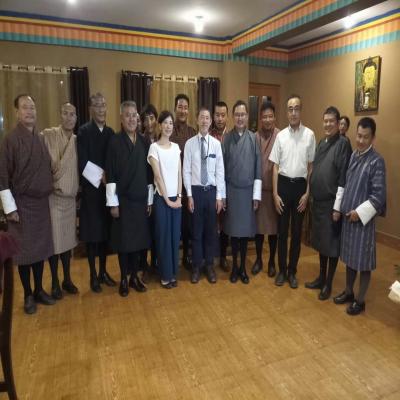 Posted on:20 Aug 2018
---
Meeting and parting is the way of life but parting with the hope of meeting again is what life's all about! In line to that on 17th August, 2018 the Agriculture Machinery Centre (AMC) bid farewell to two outgoing staff after successful completion of Strengthening Farm Mechanization Project Phase II, JICA.
Mr. Koji Kanemaro worked as Project coordinator for yearlong and under his leadership, overall the project was a resounding success having achieved all the outputs and even beyond the set targets.
During duration of four years Mr. Oishi Tsuneo worked in various capacity. He worked as Project Coordinator and in final year he took position of Chief Advisor. Under his leadership AMC achieved unexpected goals in the field of research, quality and certification. Under his guidance now AMC is confident enough to carry forward the activities. One great legacy behind is better hiring models for the execution of hiring services in the country. He also stressed that the "successful completion of the Project should be successful continuation". Inline to that he asked us what we should do to sustain and continue the activities.
During gathering the Program Director expressed his appreciation and thank government of Japan, JICA and Project counter parts for huge support they rendered in the field of farm mechanization. He also stressed that with support of project, now AMC is confident enough to carry forward the activities of three components and may require such support with changing times in future too. The event was attended by officials from JICA, CEO, FMCL, Farm Specialist, Program Director and component managers from AMC and FMCL.
The entire family of AMC, takes this opportunity to thank two project staff for their commitment and contribution to organization. We heartily congratulate them for their dedicated service and wish them a very happy and peaceful life ahead.