AMC BID FAREWELL TO THREE OUTGOING STAFF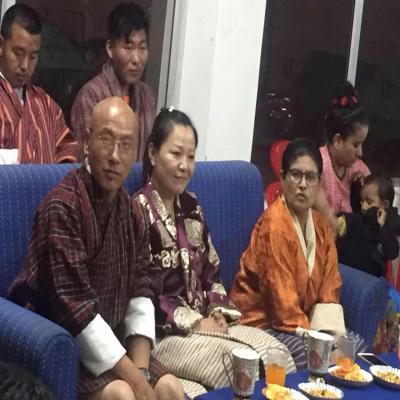 Posted on:13 Jun 2018
---
Meeting and parting is the way of life but parting with the hope of meeting again is what life's all about! In line to that on 8th June, 2018 the Agriculture Machinery Centre (AMC) bid farewell to three outgoing staff.
Mr. Dorji, Administration Assistant superannuates as a Sr. Adm Asst as of May 31, 2018 after 33 years of dedicated service to the TSa-Wa-Sum. During his tenure, the organization has achieved many milestones in protocol and administrative system. Before his resignation he is recipient of gold medal plus life time service award to Tsa-Wa-Sum.
Mrs. Sonam Pem, Agriculture Engineer resigned after serving decade with Agriculture Machinery Centr.She decided to resign to pursue higher studies in Newzaland. During above period she worked in various capacities under AMC and great legacy behind is setting standard in certification section and building good foundation in monitoring and evaluation section.
Aum Ohm Maya, Wet Sweeper served 18 years in AMC and she resigned on personal reason. During her stay we found her very hard working and punctual in her work. Beside her professional work she always help other staff in the interest of organization.
The entire family of AMC, takes this opportunity to thank our three colleagues for their commitment and contribution to organization.
We heartily congratulate them for their dedicated service to the Tsa-Wa-Sum and wish them a very happy and peaceful life ahead.