Moderation result for AMC staff under DoA for 2016-2017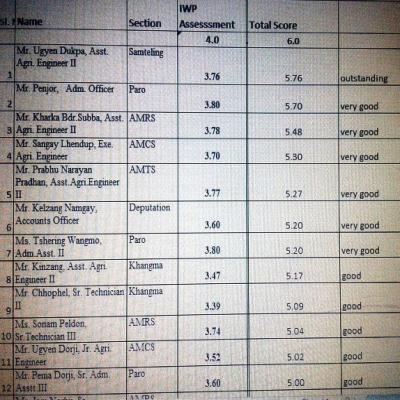 Posted on:06 Nov 2017
---
Agriculture Machinery Centre would like to congratulate all colleagues for the wonderful work done as a team in the financial year 2016-2017. Ugyen Drukpa secured the outstanding staff for the year followed by many colleagues in very good and good categories. The management expects many new names in the coming year especially in outstanding and very good categories.
The 2016-2017 rating may not be the best. However from this year where most of the planning and ratings are done online through "MAX", the discrepancies which did arrise in 2016-2017 shall be minimised. AMC wishes all the Best.
" Performing what is planned in APA shall hand one in "GOOD" category only. Peforming more than what is planned shall land one in" VERY GOOD" category. However bringing seachange in the work with huge impact in the lives of the farmers shall land you in the only " OUTSTANDING" category.